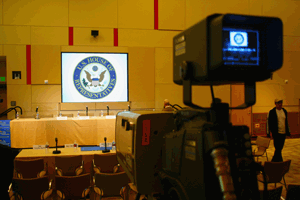 Featuring the absolute finest in video technology and a veteran staff from the film, and live event industry, TNT is the only choice for your live video needs.

TNT is one of the best-equipped video companies in the US, with packages available in both High-Definition 1080, and standard definition 16:9 and 4:3. Featuring BARCO projectors, Thomson cameras, and Grass Valley engineering, TNT uses only the best professional equipment, operated by the finest crew.

From small meetings to sports broadcasts, TNT has the video package to fit your needs.

Give our sales staff a call at 1-866-EVENT-AV or sales@thenoveltech.com and see how we can make a video system for your needs.